17th December 2003
---
On the 17th of December 2003 The Henlow Flying Group joined the rest of the aviation World in celebrating 100 years of man-powered flight.
Somewhat surprisingly, in the summer I had remembered that this year was the Centenary of Powered Flight and had taken the precaution of booking the aircraft for the day. As the day approached it became apparent that I was not the only group member wishing to fly and threw the day open to all comers.
On the previous day, the forecast was for a misty/foggy start in the Henlow area, lifting by mid-morning to 7000 metres and a cloud base of some 3000'. On that basis, Bill elected to turn up at about 09:00 with the hope of flying early which fitting in with my aim to arrive at about 11:00.
The day dawned fine and much better than the met-man had predicted. So after a fun filled journey around the M25, I arrived shortly before 11:00. Both Bill and Rob were with the aircraft just outside the hangar. Bill was running late, but he soon had the engine running and departed for a quick local flight while Rob and myself went up to the tower to view the visiting aircraft.
| | |
| --- | --- |
| | To celebrate the Centenary, the local Moth owners had arranged a 'do' at Henlow, this involved a fly-in to Henlow, followed by a loose formation trip to Hatfield, Leavesden and the Mosquito Aircraft Museum at London Colney. |
In the tower, we had a quick discussion and decided that we could do Hatfield and back in about 40 minutes. (OK, so 'YP may not be a moth, but I did used to work there!). The new group member, James collared me as I left the tower. 616 VGS were running a course and he was attending, but it looked unlikely that he would get a flight that day - could I help? After a quick think, I agreed to help him out, but as it turned out, he also managed to cadge a trip in the Venture with Brian.
| | |
| --- | --- |
| | When Bill returned with 'YP, Rob did a quick walk around and topped off the fuel tanks. |
| | |
| --- | --- |
| | Knowing that the Moth formation would be hot on our heels, we did not hang around and we were soon airborne. |
| | |
| --- | --- |
| | A quick call to Luton Approach confirmed the worst - the nice day had brought out every man/woman and his/her dog. And they all wanted transit through Luton. On the basis of what I could hear, I decided that there would be less traffic outside the Luton zone, than in it and we were soon dog-legging around the zone, via Baldock, Stevenage and Welwyn Garden City. |
Even at our normal cruising speed (80MPH) is was a surprise that we got well to the south of Stevenage before we got to the top of Luton's list.

We climbed to 2300' QNH to pass over the top of Panshanger and then there was Hatfield on the nose. Although they've been building on the airfield for some years, there have been many changes this year and the airfield is now almost gone.
We did a couple of quick orbits around Hatfield, taking photographs and keeping a beady eye open for the Moth's.

You can see more pictures of Hatfield here (broken link).
While we were orbiting Hatfield, I noticed that there were now more aircraft outside the Luton zone than were in it and called for transit. To ensure a transit direct track back to Henlow, I requested a routing via the Luton overhead, thereby ensuring a clearance of "pass east abeam" which resulted in the required direct track. They got their own back when we had to hold for a LearJet as we came up to the extended centre line. Don't you just love air traffic controllers?
| | |
| --- | --- |
| | Joe was next to fly. The Moths were inbound for a stream landing, so we didn't hang around an quickly got airborne and out into the local area for some steep turns, stalls and a PFL. Then, it was water tower for rejoin and back to the airfield where we practiced go-arounds for a bit. |
| | |
| --- | --- |
| | James got his first chance to fly 'YP. By now it was getting close to time that I had to leave and all we had time to do was fly out towards Old Warden and then it was water tower for rejoin. |
Scott and Bob took the aircraft over to do a few flights each and I left to join in the traffic jams on the M25.
Total flights for the day: 12.
Total airborne time: 3 Hours 10 Minutes.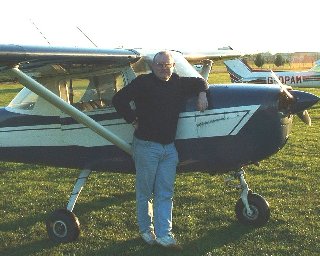 Andy.
Last updated: 21-Jan-2004 17:30:02